The presence of new technologies in our daily lives is undeniable. In the current digital era, having a good technology partner has become crucial. An ally can make the difference in the success of projects or businesses, and also help us make the most of the latest technological trends and keep us updated in a constantly evolving world. From communicating with our loved ones to performing everyday tasks, technologies are always present.
In the business environment, the use of new technologies is essential to simplify, automate and improve the efficiency of business processes.
In the field of tourist accommodations, those that have been able to anticipate and adapt to the new times, to the demands of today's customers and to the way they search, book and live their experience, have a greater chance of survival. Today's customer is demanding and seeks simplicity and efficiency at all times, from the first contact with the hotel to check-out. In this context, technology becomes an essential ally in offering quality service and satisfying customer needs.
Why should I digitize my business?
In today's complex and digital environment, the gap between hotels that continue to rely on manual processes and those that have begun the digitization process has become increasingly evident, giving the latter a clear competitive advantage.
First of all, it is important to consider the implementation of new technologies and the digitization of businesses as an investment that can bring great benefits both in the automation of processes and increased revenue, as well as in the relationship with customers, improving their experience.
In addition, new technologies have the ability to take care of the most tedious day-to-day tasks, allowing managers to focus on what is really important: attending to guests, giving them all the attention they deserve during their stay and helping them to share their experience with friends and family.
¿Where do I begin?
Nowadays, there are a large number of systems and programs on the market, so finding the right technology partner can be a complex task.
To select the right technology partner, it is essential to look for the one that best suits our type of business and client, optimizing investment costs. The choice is not easy, so from ABAL Consulting we have listed the main features that the tools of your technology ecosystem must have to ensure success in the digitization process of your accommodation:
Usability and Adaptability: Technological tools must be intuitive, easy to use and constantly evolving to adapt to rapid changes in the sector. In addition, it is important that these technological tools are accessible to all hotel staff, regardless of their level of technological knowledge. Usability is key in this regard because if the tool is complicated to use, it can generate more problems than solutions. Likewise, adaptability is fundamental in an ever-changing world, where customers' tastes and needs can change drastically in a short period of time.
Cloud hosting: It is essential that the technology is hosted on an external server, i.e. in the cloud, to allow access from any location and device. Storage and processing capacity in the cloud allows for greater scalability and flexibility in the use of technology tools.
Integrations: It is essential that the technology tool has an open source API, which will allow its integration with different applications and programs, thus improving efficiency and productivity in the use of the tool. The integration capability also provides greater flexibility and adaptability in the use of technologies, enabling better data management and more informed and strategic decision making.
Customer service and support: It is essential to have the backing of a team of people who offer technical assistance and quick solutions to possible incidents or doubts. Technical support must be available at all times and be able to provide personalized and effective attention to ensure optimal use of technological tools.
What technology tools do I need for my hotel?
1.Property Management System (PMS)
The Property Management System (PMS) is the hotel's command center, from where all operations can be managed, from reservations to billing and cashiering. The implementation of the PMS allows greater control of the establishment by automating processes and allows the different departments to communicate with each other to facilitate daily work. In addition, the PMS provides detailed analysis of multiple variables of your business. It is important to ensure that the PMS has the following features:
– Extensive reporting system and revenue reports: should enable decision making in terms of sales and pricing strategies. This tool is essential for efficient business management and strategic decision making based on accurate data and statistics. In addition, the ability to generate customized reports according to the hotel's needs will allow a detailed and clear view of the financial situation of the business.
– Open API: It is important that the PMS has an open API that allows integration with third parties, applications and vendors. This will allow connection with the main RMS and CRMs in the market, as well as with smart lock systems and other external providers. Integration with these external services will help improve the efficiency and automation of hotel processes, which in turn will improve the guest experience and optimize hotel management.
– Online Check-in: Provides the security that today's customers demand while reducing costs and increasing the productivity of the front desk team by spending more time on cross-selling and up-selling strategies at check-in. This is achieved by allowing guests to complete the check-in process online, prior to arriving at the hotel, which reduces the need to physically interact with front desk staff.
– Additional management modules: In addition to the PMS, it is important that the technology partner offers additional modules for the management of specific areas of the hotel such as Housekeeping, Events, POS and warehouse management. These modules optimize the management of tasks and processes in these areas, allowing for greater efficiency and staff productivity. In addition, these modules provide greater control and monitoring of activities in these areas, allowing for better planning and decision making in the future.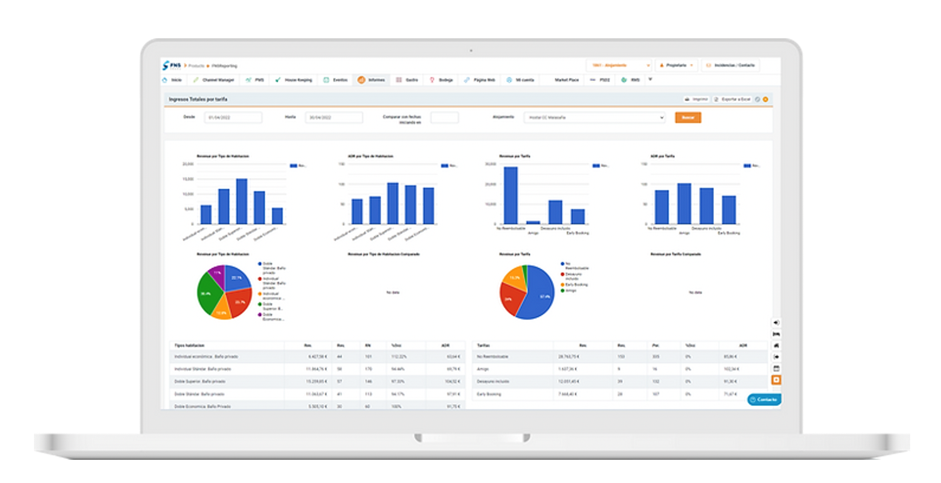 2. Channel Manager
To ensure that our rooms reach as many customers as possible and in an effective way, it is necessary to implement an adequate distribution strategy. In this sense, having a channel manager becomes an indispensable tool, since it allows us to keep our inventory, restrictions and prices updated in the different online channels without having to enter each extranet individually, saving time and costs, and avoiding discrepancies in the information.
It is essential that the channel manager has a bidirectional synchronization, which allows automatic and real-time updating of prices and availability in all connected channels. In addition, a dynamic pricing module based on automatic change rules and master rates helps to work more efficiently with our hotel's online distribution strategy and revenue management. In this way, we can adjust prices and restrictions automatically and according to demand, improving the competitiveness and profitability of our business.
3. Web with booking engine
It is common for establishments to rely heavily on sales through OTAs, but it is important to analyze the costs associated with each reservation and look for ways to reduce dependence on these platforms. One solution is to have your own website with an integrated booking engine, which will allow you to establish strategies and increase your real profits.
It is crucial to have a website optimized for search engines, with professional design, secure payment system and adapted to PSD2 standards. Don't underestimate the power of being in control of your online hosting.
What is our solution?
FNSrooms aims to simplify processes as much as possible, so they offer an all-in-one solution: all the technology you need integrated into a single interface, which gives you several advantages:
A single package, a single product instead of buying several different systems.
Lower costs.
Less learning time, which facilitates the work of your team.
Faster implementation.
Unified technical support.
Working together with our FNSrooms partners, we share knowledge and resources to help hoteliers take their property to the next level. Our management and analytics expertise, combined with their cutting-edge technology, will maximize the profitability of your accommodation.