From luxurious 5-star hotels to more modest inns, these are 25 types of tourist accommodations that exist.
Within the world of tourism, one of the most relevant decisions a traveler must make is the selection of the tourist accommodation where he will stay during his stay.
Long gone are the first tourist lodgings, taverns and inns that offered a place to sleep and food for travelers. Over time, accommodations have evolved to meet the needs and expectations of today's travelers, resulting in the wide variety of options that exist today.
Before going into detail on the different types of tourist accommodations, it is essential to point out that there are two main categories of lodging determined according to their location: urban accommodations and accommodations located in nature.
Urban accommodations
Urban accommodations are those located in urban areas and usually offer a wide range of services and amenities.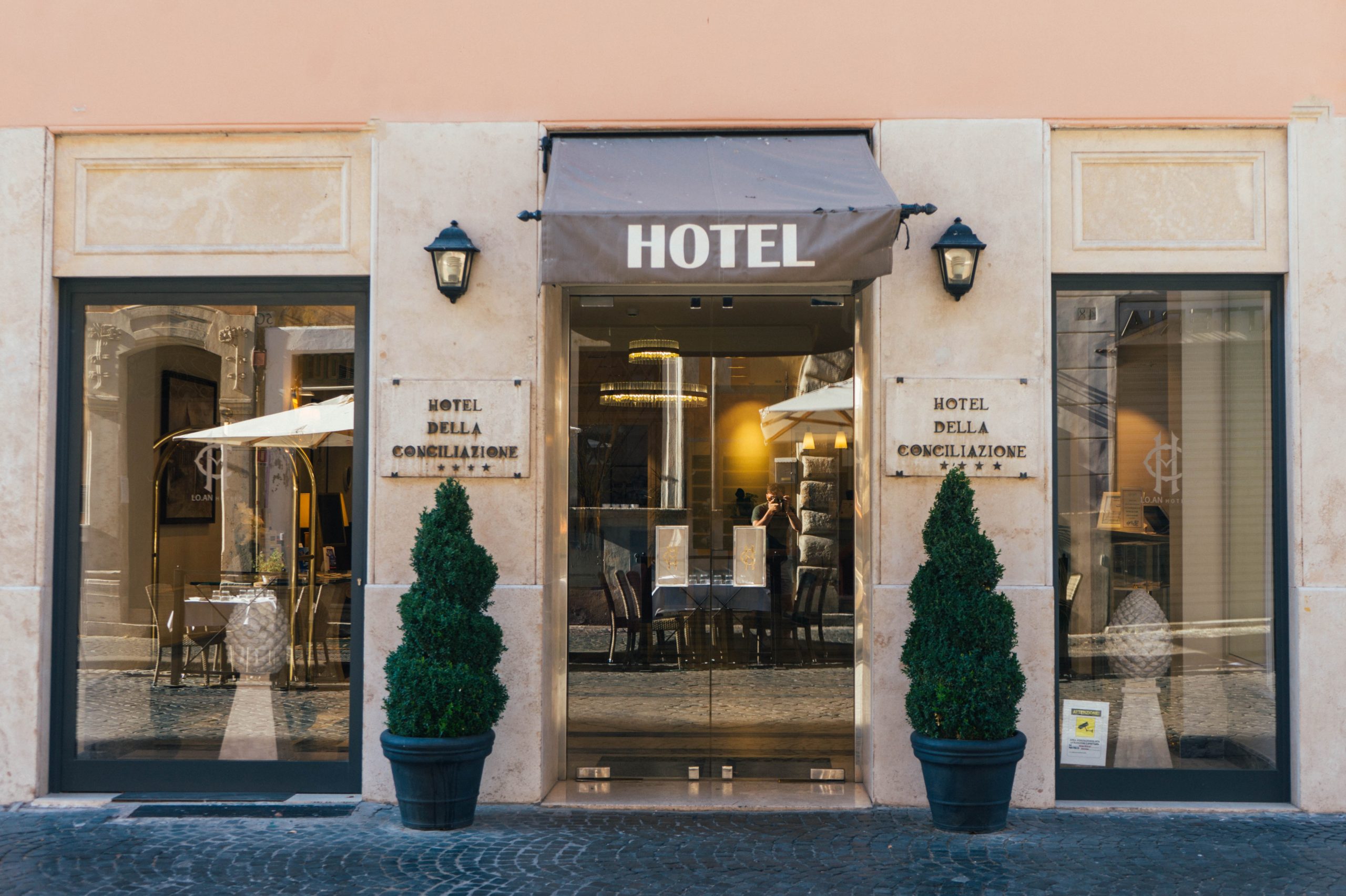 1.1 Hotels
Hotels are one of the most popular and common types of accommodation worldwide. They are generally characterized by quality services and amenities, such as well-equipped rooms, swimming pools, fitness centers and restaurants. There are different categories of hotels, which are divided according to their level of comfort.
1.1.1. Standard hotel options
Standard hotels offer rooms with basic amenities, making them a comfortable and affordable option for travelers looking for basic comforts.
Motel: Motels are usually located on the outskirts of cities or on major highways in order to accommodate travelers in transit. Motels are characterized by simple and basic rooms, usually with nearby parking, and their main attraction lies in their convenience and affordability.
Limited service hotel:One type of urban lodging that has been gaining popularity in recent years is the limited service hotel. These hotels focus on offering comfortable accommodations at an affordable price, but with a limited selection of services and amenities compared to traditional hotels.
1.1.2. With all the stars
5-star hotel:5-star hotels are luxury accommodations with exclusive facilities and services, such as gourmet restaurants, spas, fitness centers and conference rooms. The rooms are spacious, luxurious and feature high quality furnishings, large bathrooms and upscale room amenities. The staff is highly trained to provide exceptional service and the hotels are often located in prime areas, such as city centers or popular tourist areas.

All-inclusive: All-inclusive hotels are a popular choice for travelers seeking an all-in-one vacation experience. These hotels offer a wide range of services and amenities, from luxury accommodations to all meals, beverages and activities included in the price of lodging. This type of tourist accommodation is ideal for those who want a stress-free vacation experience, where everything is included in one package.

Resort: This type of tourist accommodation is characterized by being located in a specific tourist destination, such as a beach or a ski area. These resorts offer a wide variety of services and amenities, including recreational activities, sports facilities, restaurants, bars and stores, all within the resort premises. They are a perfect option for those travelers looking for a complete vacation experience without having to leave the resort facilities.
1.1.3. Small-scale or independent
Small-scale or independent hotels are tourist accommodations characterized by having a small number of rooms and offering a personalized and welcoming service. These hotels are usually owned by individuals or small companies and are located in charming places.
Hotel Boutique:Boutique hotels are tourist accommodations with a unique approach to design, decoration and personalized services. They are usually located in historic buildings or picturesque locations and offer exclusive and elegant rooms with unique features. Boutique hotels are ideal for travelers looking for a unique and exclusive lodging experience.
Lifestyle brand: This type of hotel focuses on offering a unique and personalized lodging experience that reflects the style and interests of its guests. These hotels are usually designed around a specific theme, such as gastronomy, art or fashion.
House brand hotel: A house brand hotel is a type of tourist accommodation that is associated with a hotel chain, but operates under a different brand name. In other words, the hotel does not bear the name of the hotel chain that owns it, but has its own brand. This may allow the hotel owners to have more flexibility in terms of management and may attract a different audience than the main hotel chain.
Bed and breakfast (B&B): Bed and Breakfast (B&B) is a type of tourist accommodation where guests stay in the home of the hosts, who usually live on the same property. Rooms are comfortable and cozy, with breakfast included in the room rate. Often, these accommodations are small and run by a family or couple, which creates a homey and personalized atmosphere.
Hostel: A hostel is a type of tourist accommodation that is usually cheaper than hotels and is characterized by offering accommodation in shared rooms. Hostels tend to have a more relaxed and youthful atmosphere, and are aimed especially at backpackers, students and travelers looking for an economical and social accommodation option.
1.1.4. Just like at home
Posada: An inn is a type of tourist accommodation that is usually located in rural areas or small towns. The inns are often located in historic buildings, such as old farmhouses or manor houses, and offer a cozy and traditional atmosphere. Rooms are usually simple and rustically decorated, and most often include a private bathroom.
Extended stay: Extended stay hotels are a popular choice for those needing accommodation for long periods. These accommodations are often conveniently located near shopping or business areas and offer rooms equipped with full kitchens, living and dining areas.
1.1.5. Specialized in a niche Niche accommodations focus on catering to a specific group of travelers.
One example is the conference or convention centers, that have the purpose to accommodate large groups of people attending business events. ski hotels, located in or near ski resorts and offering services for lovers of this sport, such as transportation to and from the slopes or equipment rental, casino hotelsdesigned for gaming enthusiasts, or the accommodations with water parks which include water parks at or near the hotel itself, offering a variety of water attractions and activities for guests.

1.2. Lodges
Hostels offer shared or private rooms at economical prices, mainly aimed at travelers looking for an affordable lodging option. In the hostels, guests share bathrooms and other common facilities. They also tend to have a more informal and social atmosphere, making them ideal for young travelers.
1.3. Capsule hotel
Capsule hotels are an accommodation option that originated in Japan and consist of small individual capsules that function as rooms. Each capsule is large enough for one person to sleep comfortably and is usually equipped with a television, a small table and a power outlet. Guests share bathrooms and common areas such as living rooms and kitchens.
Accommodation in nature
Nature accommodations are those that are located in rural or natural areas, and provide an experience closer to nature and tranquility.
2.1. Rural houses
Rural houses are accommodations located in rural areas, often in old houses or farmhouses, and offer a quieter accommodation away from the city. They are ideal for those looking for an authentic experience in contact with nature.
2.3. Camping
Camping is a popular choice for travelers who want to be in direct contact with nature. Camps are usually located in remote areas and offer camping areas equipped with tents, campfires, public toilets and showers.
2.4. Glamping
Glamping is a more luxurious form of camping that combines the comfort of a hotel room with the experience of being in nature. Accommodations are usually high-quality tents equipped with comfortable beds, private bathrooms, heating and other amenities.
2.5.Rotels, hotels on wheels
Rotels are mobile hotels that offer accommodation in specially designed vehicles such as buses or trucks that have been adapted to include private rooms and basic amenities.
Other types of accommodations
3.1. Apartments
Apartments are a popular choice for those looking for long-term accommodation or for those who wish to have more space and comfort during their stay. They usually come with a kitchen, private bathroom and common areas for eating and resting.
3.2. Pop-up hotel
Pop-up hotels are temporary hotels that appear in unexpected places for a short period of time. They are usually an option for special events, festivals and other occasions where the demand for temporary accommodation is high.
As can be seen, there are a large number of options from which travelers can choose where to stay. From luxurious 5-star hotels to simpler inns. Fortunately, there is a perfect tourist accommodation for every type of traveler.